Kells Road Races today officially launched their fundraising campaign in a bid to host the 2019 Road Race on the Crossakiel circuit again.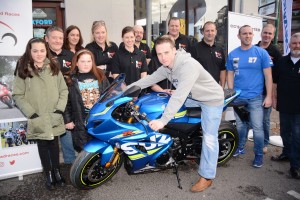 Joe Loughlin tries the GSXR for size
The 2018 committee gathered at CC's Unlimited Kells with a group of riders and racers alike to promote the effort which currently involves raffling a brand new Suzuki GSXR1000R. With ticket numbers being limited to 500 to maximize the chances of entrants, the Club has put in place online services so that potential punters can purchase tickets easily. Tickets are prices at €100 each but, syndicates are welcomed to spread the ticket cost.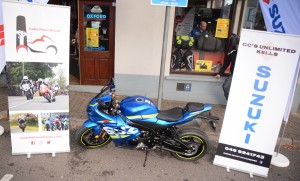 The actual bike on show
On hand to reveal the new bike in Kells this morning, were CCs owners Christy, John and family whose well stocked shop provided some welcome snacks and warm drinks for those that traveled. Also involved in the promotion, was popular Monaghan Road Racer Joe Loughlin who seemed taken with the 1000cc Superbike.
The raffle will go some way in helping the club return to the 2019 National Road Racing calendar but, will not fund the entire running of the meeting. It's hoped that Road Racing fans, both in Ireland and abroad will fully support this effort to ensure the success of the event and the continuity of the sport within Ireland.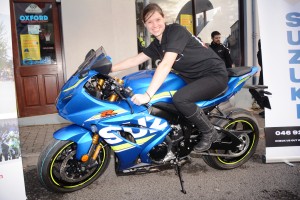 Hard working committee member Leoni Burke
To sign up for the raffle you can use the email address NorthMeathRaces@mail.com or contact the committee via their Facebook page Kells Road Races for more information.